JILL BERRY
Executive Director
Touchmark at Meadow Lake Village
As Executive Director, Jill oversees an award-winning full-service retirement community that includes cottages, villas, and apartment homes and services that span independent and assisted living, memory care, home health, home care, and a robust health and fitness club that offers memberships to the public.
Jill came to Touchmark in 2022 with 20 years of experience in senior living. Prior to joining Touchmark, she most recently served as Senior Regional Director of Operations for Compass Senior Living, supporting 10 communities through every area of operation. Previously, she served as the Regional Director of Operations and as Executive Director for a few different senior living providers.
Jill holds a master's degree in Gerontology from the University of Southern California's Leonard Davis School of Gerontology as well as a bachelor's degree in Sociology with a concentration in Gerontology and a minor in Planning Public Policy & Management from the University of Oregon.
Some of Jill's many career accomplishments include being named Executive Director of the Year by two of her previous employers, serving as the education committee member for MOVE: Making Oregon Vital for Elders, and co-leading a teaching series through the Successful Aging Institute, in Eugene, Oregon. She has also been a guest presenter numerous times in courses offered by Western Oregon University Gerontology LTC & Senior Housing program, and at conferences for the Washington Health Care Association, Oregon Health Care Association, and California Assisted Living Association.
Jill is also a former committee member of the Alzheimer's Association's Community & Family Services division and has completed Validation training, which is an enhanced way to communicate with those that have dementia.
Outside of work, you can find Jill spending time with her partner and two young boys. She enjoys cheering on the University of Oregon Ducks at sporting events as well as reading, traveling, and learning. In addition, she likes to be active and has run several half-marathons.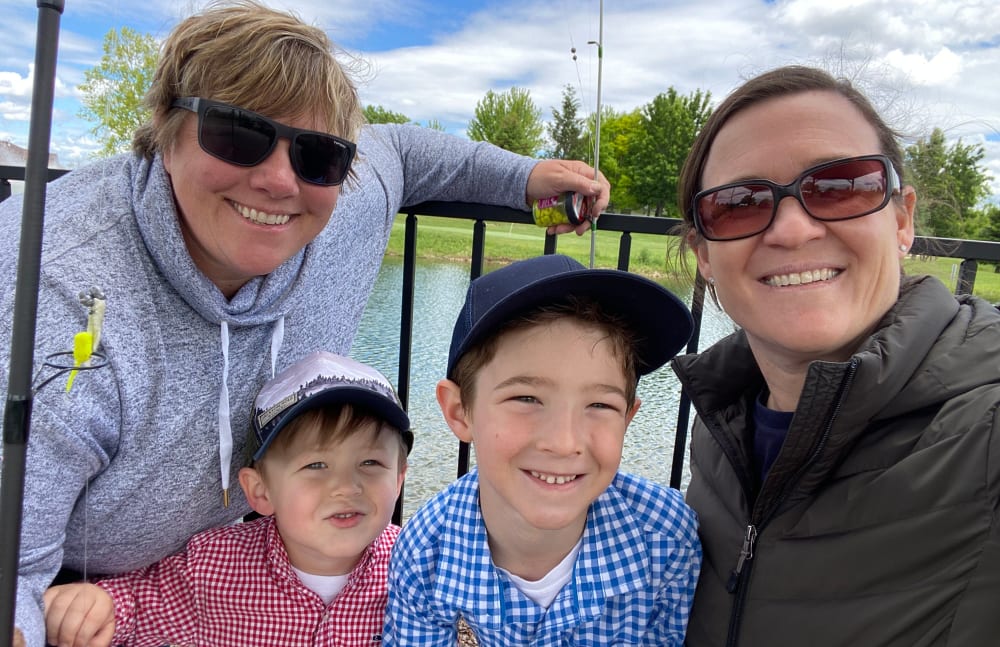 "Fishing with my family on the pond at Touchmark Meadow Lake Village – we love outdoor adventures!"
- Jill Berry